Como contraponto ao ponto de vista de Bérubé, meu cartunista político favorito nos Estados Unidos, Tom Tomorrow, que me parece compartilhar comigo meu grande lema de vida: rir para não chorar]: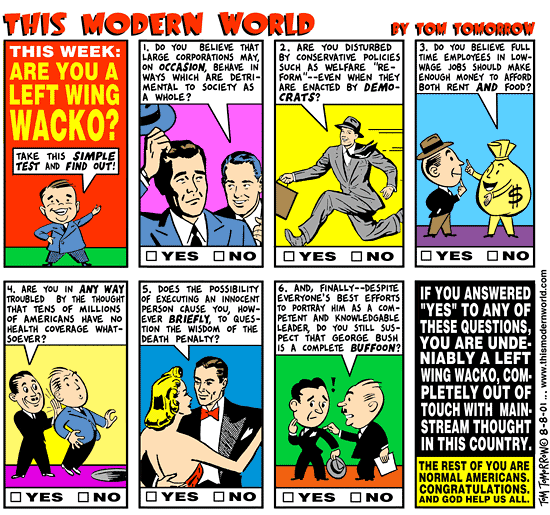 PS. William Kristol existe e essas pérolas acima foram tiradas da sua coluna. Ele é filho de um conservador famoso e o parceiro dele [os dois tem uma revista conservadora, Weekly Standard], John Podorhetz, tem um pai, Norman Podorhetz, que é pior ainda: acabou de lançar um livro ridiculo chamado "Why are Jews Liberals?", um tratado furioso por causa do historico eleitoral dos judeus americanos [se dependesse do voto dos judeus os EUA nunca teriam eleito sequer um presidente republicano]. Dizem que os conservadores americanos dizem, em desespero que "Jews earn like Episcopalians and vote like Puerto Ricans."
Uma resenha excelente desse livro apareceu no NYT semana passada, acho. Reproduzo um parágrafo que eu achei particularmente bem escrito:
"Its author has a completely axiomatic mind that is quite content to maintain itself in a permanent condition of apocalyptic excitation. His perspective is so settled, so confirmed, that it is a wonder he is not too bored to write. The veracity of everything he believes is so overwhelmingly obvious to him that he no longer troubles to argue for it. Instead there is only bewilderment that others do not see it, too. "Why Are Jews Liberals?" is a document of his bewilderment; and there is a Henry Higgins-–like poignancy to his discovery that his brethren are not more like himself. But the refusal of others to assent to his beliefs is portrayed by Podhoretz not as a principled disagreement that is worthy of respect, but as a human failing. Jews are liberals, he concludes, as a consequence of "willful blindness and denial." He has a philosophy. They have a psychology."
Essa é a descriçao precisa do que a gente chamaria no Brasil, em linguagem de dia-de-semana, "um texto bitolado".